I was really upset when I saw Crystal Renn's new photos
because I thought she was abandoning her message.
I'm really glad that
Glamour interviewed her
as well as putting up some behind-the-scenes photos from the same shoot. It's amazing what lighting, cameras, and styling (as well as retouching) can do to make a healthy woman look sick.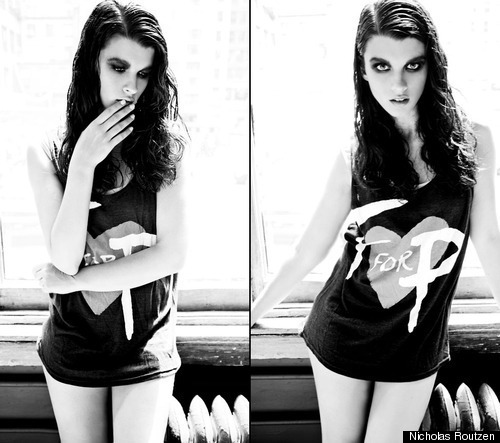 To quote Glamour/Crystal Renn:
GLAMOUR: You told me that your worry was that girls would look at those thin-looking pictures of you and think that you were glamorizing extreme skinniness.

CRYSTAL RENN: Yes. That was a huge fear for me. I thought, "People are going to think that I'm sick—and maybe a girl who's suffering from an eating disorder sees a picture like this and gives up hope." People who have followed my story and heard my voice might think I've turned my back on that, and that it's only beautiful to be thin. They're not going to know where I stand right now, and I understand that. Because if I were in their shoes looking at this picture, I would be disturbed. I would absolutely be disturbed.

GLAMOUR: What would your message be, then, to that girl looking at this picture?

CRYSTAL RENN: I would tell her: I don't look like that. I absolutely do believe in beauty at every size. And I'd tell her you can't look at every image you see in this industry and say, "That's exactly how that person looks," because they don't necessarily look like that. I mean, there is extreme retouching. There is amazing, very expensive clothing that is cut just right to flatter the body. People have trainers and go to great lengths for their bodies. And for that girl who's thinking she has to be so thin to be accepted? You don't. It's not true. I starved myself to be successful, when in fact my real success only came when I became more confident.